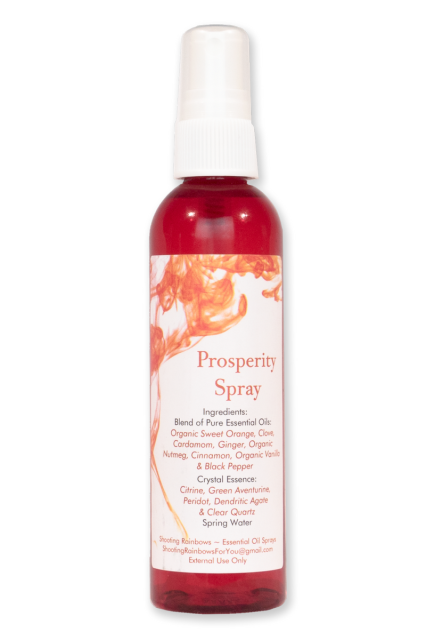 Prosperity Spray
SKU:
$16.00
16 22 $16.00 - $22.00
Unavailable
Prosperity Spray was blessed with the intention of Prosperity and Abundance in all things & areas of life. This spicy blend was blessed with Financial Prosperity and Freedom, Peace of Mind and Abundance in: Unconditional Love, Forgiveness, Happiness, Health in Body, Mind & Spirit, Harmonious Relationships, Gratitude, Success in all Things that Support your Highest Good, and everything else good that you could think of ((nothing but the best for you guys))!

Mmmm... the smell of Masala Chai Spice! Made with Pure Essential Oils of: Organic Sweet Orange, Organic Clove, Organic Cardamom, Organic Ginger, Organic Nutmeg, Cinnamon Bark, Black Pepper, and Organic Vanilla. These warm & spicy oils were infused with Crystals charged in Sunlight: Citrine, Green Aventurine, Peridot, Dendritic Agate, and Clear Quartz.

BPA free, PET lined bottle for essential oil use. Sprays are for external use only! Made with pure essential oils, many organic, these sprays can be used for almost anything: perfume, cologne or body spray, room deodorizer, linen refreshing or even car funk be gone spray!