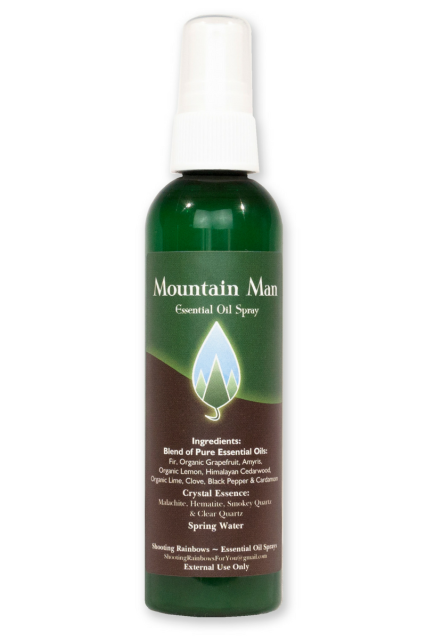 Mountain Man Spray
SKU:
$16.00
16 22 $16.00 - $22.00
Unavailable
Mountain Man Spray... Finally, a spray just for him! Though it smells so good, everyone will love it! This rugged blend was engineered to balance Male energies, bring about feelings of confidence, assertiveness, calmness and balance between mind & body. Great for balancing the Divine Masculine and Divine Feminine Energies.

Mountain Man Spray! Mountain Man: Made with pure essential oils of: Organic Fir, Organic Grapefruit, Amyris, Organic Lemon, Himalayan Cedarwood, Organic Lime, Organic Clove, Black Pepper & Organic Cardamom. These manly and rugged oils were infused with Crystals charged in Sunlight: Malachite, Hematite, Smokey Quartz, and Clear Quartz.

BPA free, PET lined bottle for essential oil use. Sprays are for external use only! Made with pure essential oils, many organic, these sprays can be used for almost anything: perfume, cologne or body spray, room deodorizer, linen refreshing or even car funk be gone spray!