>
Spiritual Awakening Spray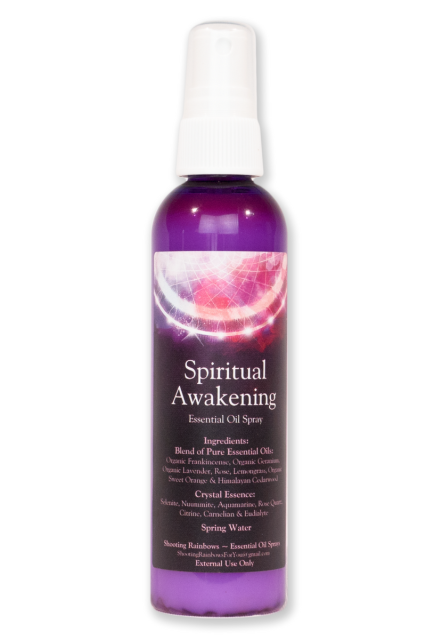 Spiritual Awakening Spray
SKU:
$16.00
16 22 $16.00 - $22.00
Unavailable
Spiritual Awakening Spray was created to assist those following a Spiritual Path, to help you align your energies for the highest good. This chakra balancing sprays contains an essential oil and crystal that correspond to each of your chakras, with extra emphasis on the root and crown chakra. Each Spiritual Awakening Spray was supercharged with chakra balancing frequencies. Zing and Pow! Your Soul is gonna love this one!

Spiritual Awakening Spray is made with Pure Essential Oils of: Organic Frankincense, Organic Geranium, Organic Lavender, Organic Rose, Organic Lemongrass, Organic Sweet Orange and Himalayan Cedarwood. These mystical oils were infused with Crystals charged in Sunlight & Moonlight: Selenite, Nuummite, Aquamarine, Rose Quartz, Citrine, Carnelian, Eudialyte & Clear Quartz.

BPA free, PET lined bottle for essential oil use. Sprays are for external use only! Made with pure essential oils, many organic, these sprays can be used for almost anything: perfume, cologne or body spray, room deodorizer, linen refreshing or even car funk be gone spray!