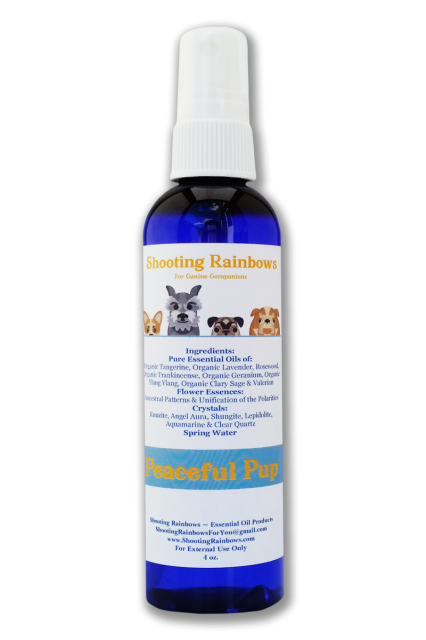 Peaceful Pup Spray
SKU:
$16.00
16 22 $16.00 - $22.00
Unavailable
Peaceful Pup Spray was created to help your canine companion feel safe, calm and secure. This protective blend helps to soothe and relax the emotional and physical bodies, while protecting the aura from negativity. Peaceful Pup Spray ushers in balance, serenity, and purification, while helping to release stress and move into a state of calm and acceptance. Your furry friend will love this dog safe blend!

Peaceful Pup Spray is made with 100% Organic Essential Oils of: Tangerine, Lavender, Rosewood, Frankincense, Geranium, Ylang Ylang, Clary Sage, and Valerian. These soothing oils are imbued with the gentle Flower Essences of: Ancestral Patterns and Unification of the Polarities. This relaxing blend also infused with Crystals super-charged in Moonlight: Kunzite, Angel Aura, Shungite, Lepidolite, Auquamarine, & Clear Quartz.

Made with pure essential oils, many organic, these sprays can be used for almost anything: perfume, cologne or body spray, room deodorizer, linen refreshing or even car funk be gone spray! BPA free, PET lined bottle for essential oil use. Sprays are for external use only!