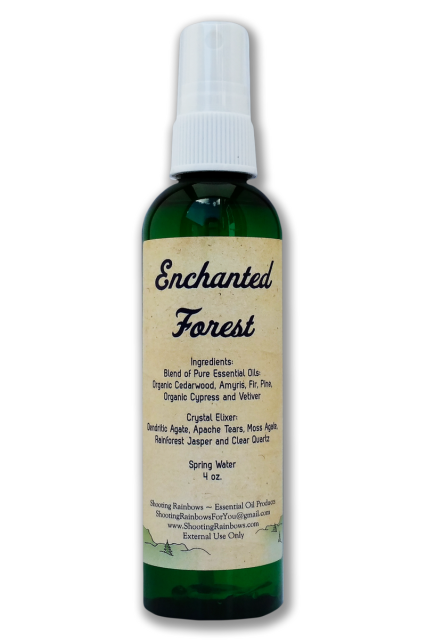 Enchanted Forest Spray
SKU:
$16.00
16 22 $16.00 - $22.00
Unavailable
Enchanted Forest was created to bring about a deep connection to the forests and trees that we share our Earth with. This vibrant and woodsy blend helps one to feel alive, healthy, grounded, balanced, renewed and patient. This blend helps one to connect to Love and Light, nature spirits, woodland creatures and Earthly mysteries. Harmonizes and opens one up to all positive energies, healing, self-love, Divine Love, compassion and mercy. This also makes a great spray for men!

Enchanted Forest is made with Pure Essential Oils of: Organic Cedarwood, Organic Amyris, Organic Fir, Organic Pine, Organic Cypress, and Organic Vetiver. These fresh and earthy oils were infused with Crystals charged in a beautiful Apple Tree: Dendritic Agate, Apache Tears, Moss Agate, Rainforest Jasper and Clear Quartz.

BPA free, PET lined bottle for essential oil use. Sprays are for external use only! Made with pure essential oils, many organic, these sprays can be used for almost anything: perfume, cologne or body spray, room deodorizer, linen refreshing or even car funk be gone spray!