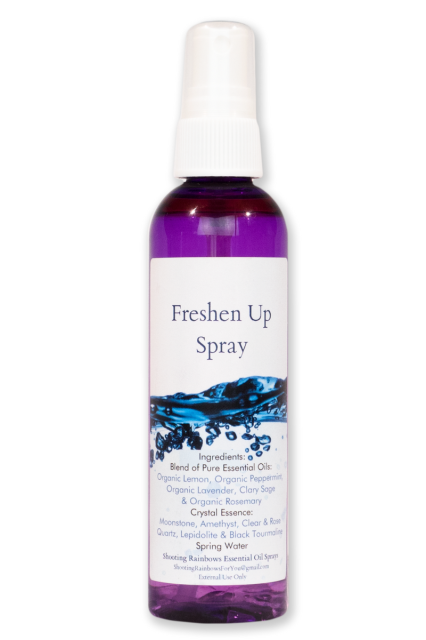 Freshen Up Spray
SKU:
$16.00
16 22 $16.00 - $22.00
Unavailable
This cleansing, cooling & uplifting blend was created to help you feel refreshed and rejuvenated. These wonderful oils help brings feelings of self-love, harmony, healing, balance and well-being, while purifying and protecting yourself and your environment. This wonderful blend transmutes negative energy into positive! A great spray to help clear negative & stagnant energies!

Freshen Up Spray is made with Pure Essential Oils of: Organic Lemon, Organic Peppermint, Organic Lavender, Clary Sage & Organic Rosemary. These invigorating oils were infused with Crystals charged in Moonlight: Moonstone, Amethyst, Rose Quartz, Lepidolite Black Tourmaline & Clear Quartz.

BPA free, PET lined bottle for essential oil use. Sprays are for external use only! Made with pure essential oils, many organic, these sprays can be used for almost anything: perfume, cologne or body spray, room deodorizer, linen refreshing or even car funk be gone spray!